Welcome to Jim Slip
Welcome to Jim Slip's mad, mad, World! Here my wife, Lara, films me shagging the cutest girls on Earth! See them, plucked from the streets, dressing up in tiny skirts, stockings and high heels and behaving like wanton sluts for Lara's camcorder! Watch, as I am order to fuck 100's, yes 100's! of these babes, by my eever demanding wife!
On top of all this, you can get Lara's own website, www.larasplayground.com
, totally FREE, when you
join www.jimslip.com
! Lara makes me film HER getting fucked and I love seeing my wife, in her stocking and suspenders, cumming on another man's cock! Jim Slip, putting the "Shock & Phwoar" into British porn since 2002!
My Latest Update
Update:
September 23, 2016 |
Video duration:
24 minutes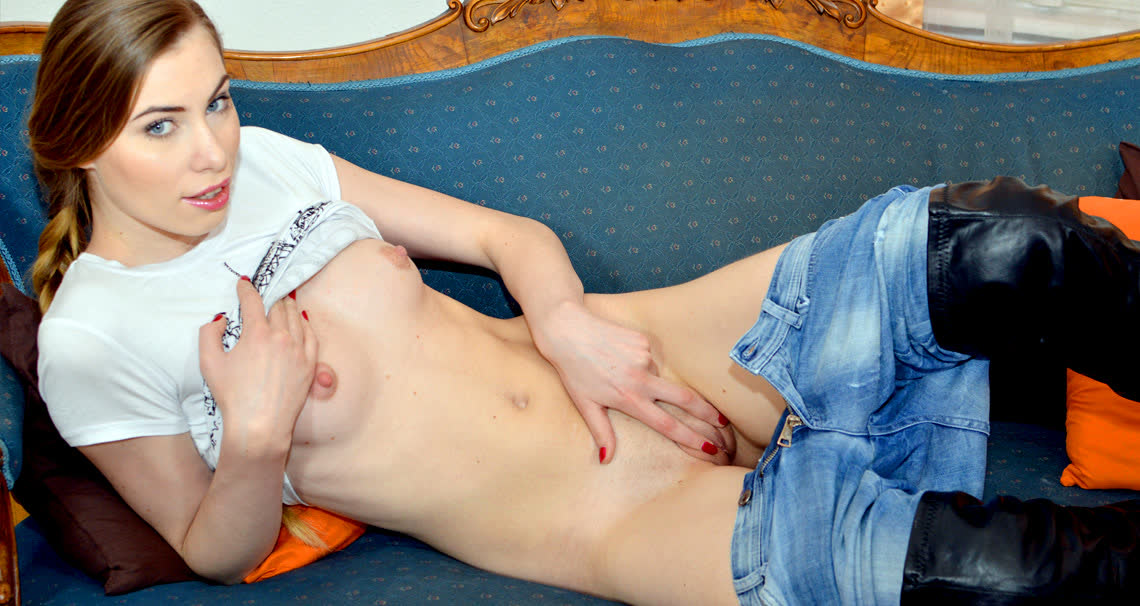 Mile High Milena
This week we have "My kinda gal" in the form of the lovely Russian, Milena. She towered over me when she arrived in skin tight denims and over knee boots - a look which is all the fashion with the Victoria Secret girls and a look that has me salivating like a man demented! Milena spoke little English, but to be frank, I didn't care too much as I was far too busy gazing at her gorgeous arse as she shoe-horned her denims down for me to have a closer look. Standing there 6'5" in those "Boots of Beelzebub" with her denims pulled half way down was a sight to behold and when she dropped to her knees, unzipped my trousers and stuffed my dick in her mouth, I was already pondering how I could possibly fuck her, whilst she was in effect bound by her denims and boots. So quite simply, I stopped the camcorder, got her to take her denims off, put the boots back on and voila! I could now fuck her more easily - albeit whilst still holding the camcorder. Thats ingenuity for you! Next week we dress her up as a prostitute which seemed to suit her perfectly and she just loved the role!